I'm linking up again today with
Flower Patch Farmgirl's Money Shot Monday.
(Fully realizing this is Wednesday... But I take the photos on Mondays, so that still counts, right?) I have to say that it was a toss-up again as to which moment to share. I love that about Money Shot Mondays...I'm hooked, people. I caught myself at least 7 times thinking, "ooh, this is so money!" And when I didn't have a camera handy, I just framed the shot in my mind and "click!", took a mental picture. I like to imagine that my home in Heaven is wallpapered with all those shots...the times I didn't have a camera handy, but prayed the image would be seared into my memory. Maybe it is.
I took this picture after a day full of Christmas crafting and sneaky school activities. (You know, when they're learning but don't realize it?) I chose it for my money shot because it brings back warm memories of our Monday. We worked our way through the day, wrapping up with late-night fingerpainting. Because sometimes you can't just claim to be a free-wheeling, mess-making Mama...you have to put your money where your mouth is. Even if it pains you a little. But just a spoonful of "washable" helps the medicine go down.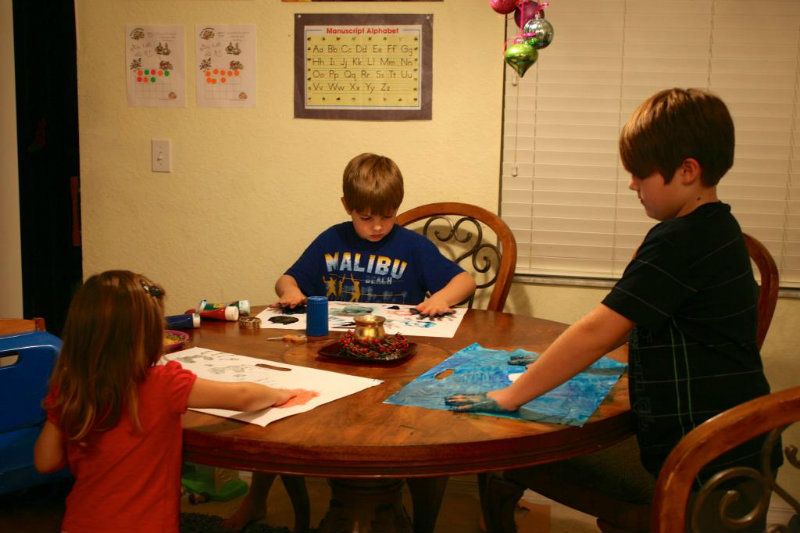 I don't know if its just Christmas, but I've been feeling so melancholy lately. In a good way, though. I mean, we talk about the bible all the time, but something about telling His story at this time of year makes me teary. You know I stress over doing the perfect job of turning out these little people. I can't handle imagining a scenario with any other ending. And in my internet-ing, I stumbled upon this quote...
Any meaningful relationship begins with clear one on one contact. It is maintained by clear one on one contact. Third party involvement and interpretation of intentions always muddies the waters of genuine friendship. God wants us to know Him personally.
He WANTS to talk to you, fellowship with you, walk with you in the cool of the day.
Set me free, why don'tcha.
When I was a kid, my best friend Jenny Brown lived across the street. She and I were 2 years apart in school, so we both had school friends that didn't really know us as well as we knew eachother. There were times we all got together on the street for a four-square game or at the local pool for a swim, and we'd just have a ball. But if she had to leave me with one of her friends for whatever reason, there was always that awkward silence that followed. Pleasantry, but formality, as we anxiously awaited her return. As nice as they were, and as much as I liked them because she did, nothing compared to the memories we made when it was just the two of us. No walls, no pretenses, not a care in the world. Just 2 ridiculously giggly girls playing 25 rounds of Uncle Wiggly for the bajillionth time.
That's what I want for my kids and Jesus. I don't want to have to be present for them to be comfortable with the Lord. I don't know that Don Nori intended this quote for parenting purposes, but when I read this, I just felt set free. Because even more than me wanting this...He wants this. Show me how to do this, Lord. Show me how to help them.
One of our other magical Monday moments came when we were reading this...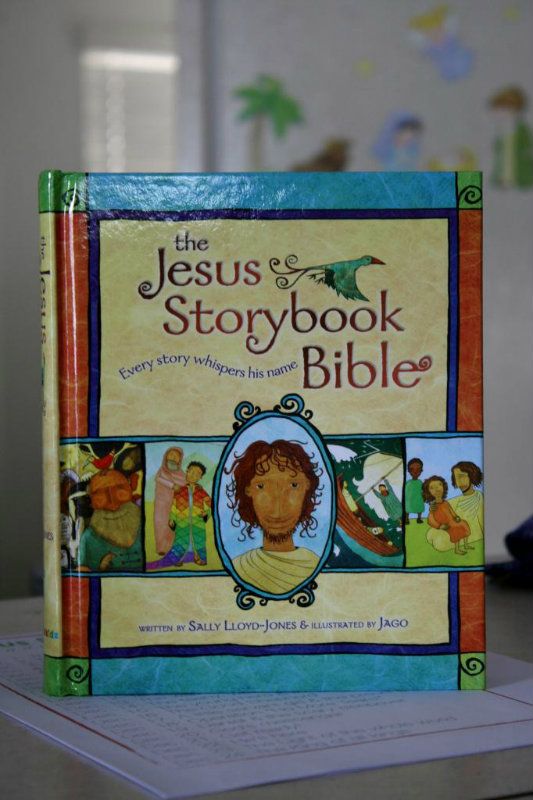 Oh my goodness, if you don't already own this,
please get one
. Not for the kids, for you. I LOVE reading it. I found an
Advent Reading Plan here
and we've been doing it every night in December. Its not too late to catch up, they aren't really long stories and you can double up until you're caught up. Every night after the reading, both boys beg me to continue. "Nope", I say, "we must wait until tomorrow." I want to keep up the suspense and also let us simmer awhile on what we've already read. Some of our readings sparked a conversation in which I was attempting to explain why satan or the tree ever even existed. I was fielding questions I am not even qualified to answer when my voice trailed off into that deep, dark abyss of "yeah, why?" when Donovan looked me squarely in the eye and said, "If there was no tree, we wouldn't really have a choice. He had to let the evil be here so we could choose good." Such resolve in his little voice. Such confidence in a loving God. Such a call to choose Good. I pushed back tears as I pictured the Holy Spirit swooping in and carrying these kids where I can't possibly take them. I am in way over my head in this life. And so grateful for His Grace. Grace that reaches, redeems, and restores Eden's promise, with or without my help.
Thank you Jesus. Thank you for today and every day. Thank you for kids who teach me so much. Thank you for this heart so full it could burst. I'm hopelessly devoted to you.
I'm enjoying this season as much as any one person possibly could.
I hope you are, too.
*I dare you to read any of Don Nori's books. Go to Amazon and sample his books. Then order all of them. They'll turn you on your head and you'll be forever grateful.
(Also, I feel the need to say that all of these links are unaffiliated/uncompensated links or whatever you're supposed to say. In other words, I'm not an real blogger, I'm just bossy. I'd like to think these people would affiliate with me, but really, who's to say? But to me, they're my peeps, whether they like it or not.)
*****Edited on Wed. at 1:30 PM to add: I just received word that Don Nori was hit by a car this morning and is currently in the ER. If you would, please join me in lifting him and his family up in prayer. His name is well-known around the throne room and I believe the Holy Spirit Himself is interceding for him now as well. Lord, take care of this mighty man of God like only You can. He really is such a blessing to so many of us. A true world-changer. Be with him now, in Jesus' name, Amen. I'll keep ya posted, folks.
*****Edited on Fri. 12/7/12 to add: Don is home from the hospital and recovering. I'm sure prayers are still appreciated as he travels this road to recovery. We are thankful he's home and believing for a swift healing in Jesus' name.